Our Vision
At the core of our philosophy, we prioritize values such as fair play, respect, integrity, and being positive role models. These values are deeply rooted in all our actions and hold great significance. Our ultimate aspiration is to become the premier and most respected football club in Bali by equipping our young players with the necessary skills and character traits to flourish in their future pursuits.
Our Mission
Our main objective is to offer every child the optimal opportunity to participate in football within a safe, supportive, inclusive, and disciplined environment. We prioritize ensuring that all players, officials, coaches, parents, and spectators receive the best possible support for their health, welfare, and overall well-being. Our commitment lies in providing our players with the finest football experience and training environment. Through football, we aim to instil essential qualities such as ambition, leadership, teamwork, respect, dedication, and the pursuit of excellence. We emphasize teaching our players how to handle both success and failure in competition and how to demonstrate good sportsmanship in both victory and defeat.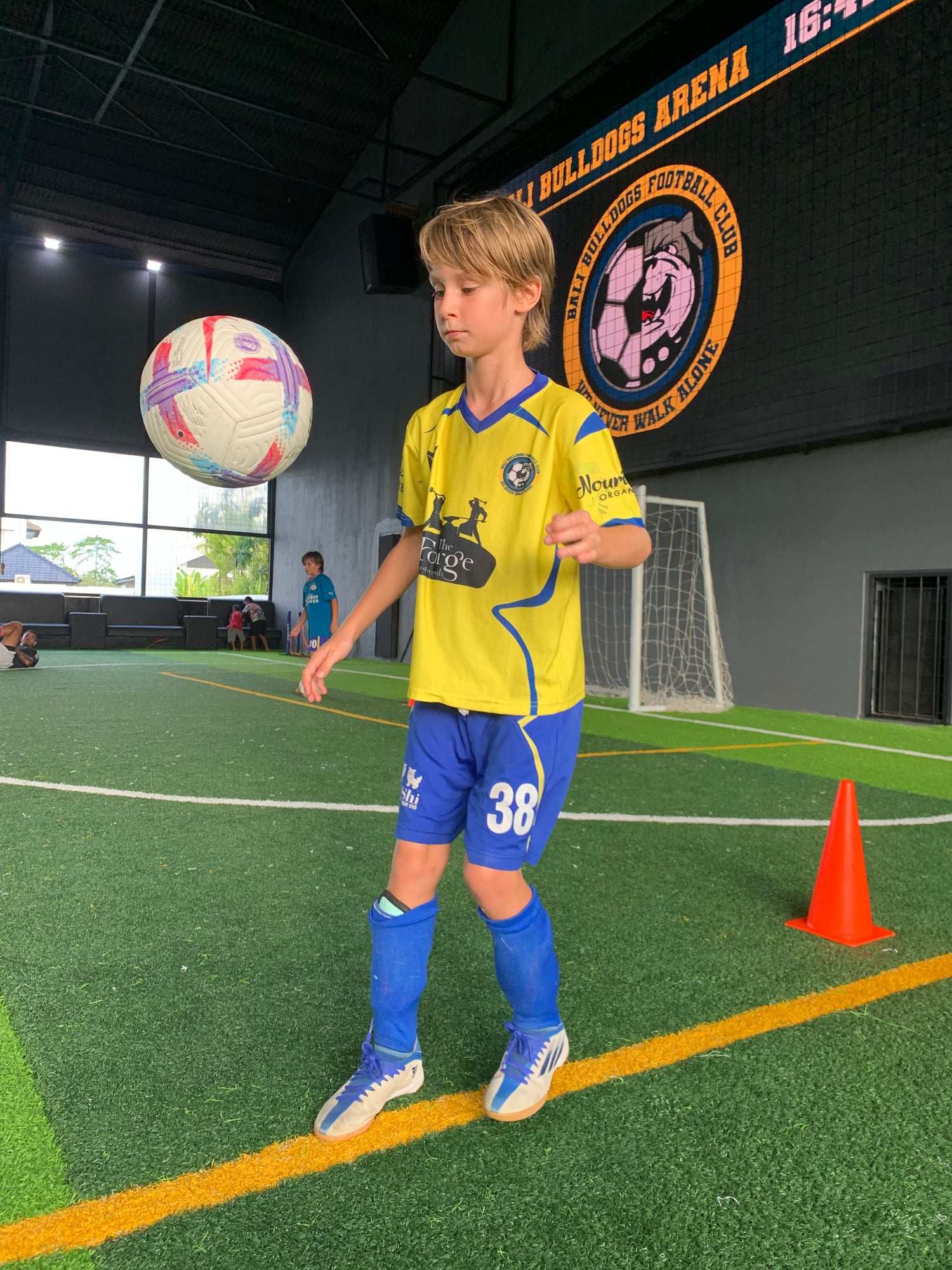 1. Introduction & Warm Up
Before delving into the exercises, we start with a warm-up that encourages players to maximize their ball touches. We call this the 10-minute rule, where each player should have their own ball and aim to get as many touches as possible, whether it's dribbling or juggling. The primary goal is to ensure that every player feels comfortable and confident with the ball at their feet.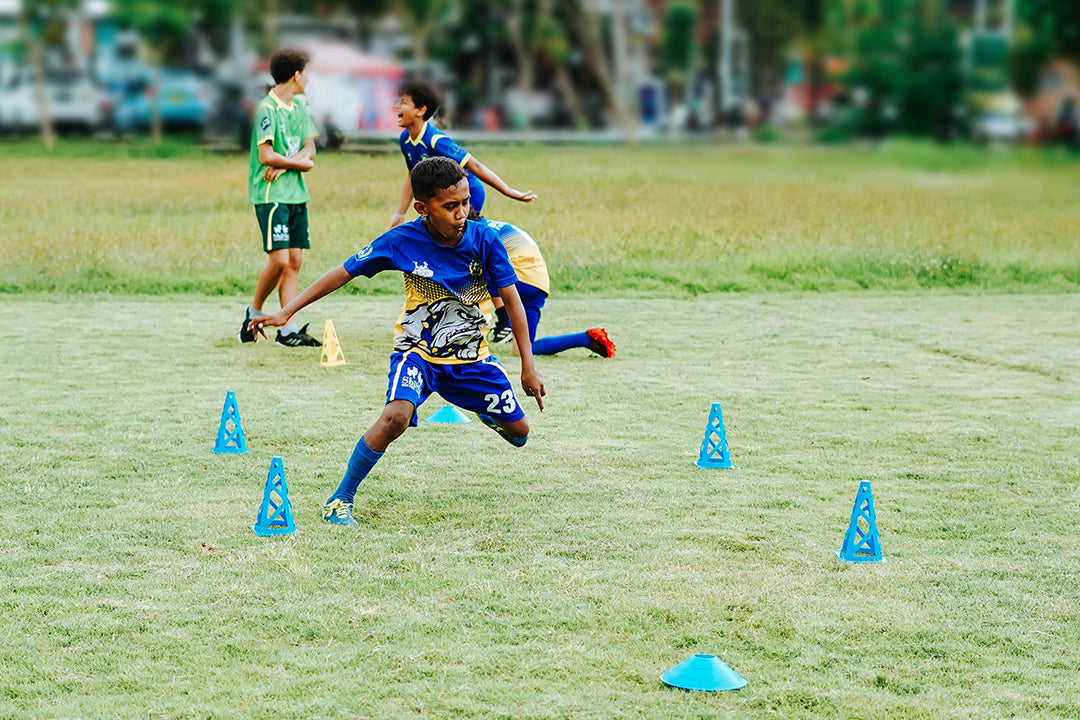 2. Technical Drills & Skills
The session consists of training exercises, which seek to develop all elements of our football philosophy, ball mastery, and playing style. Each training session focuses on developing essential skills such as speed and agility to improve quickness and reaction time, dribbling and speed drills to enhance ball control, as well as passing and shooting practice to improve accuracy and decision-making. These skills teach discipline, sportsmanship, and the joy of playing as a team.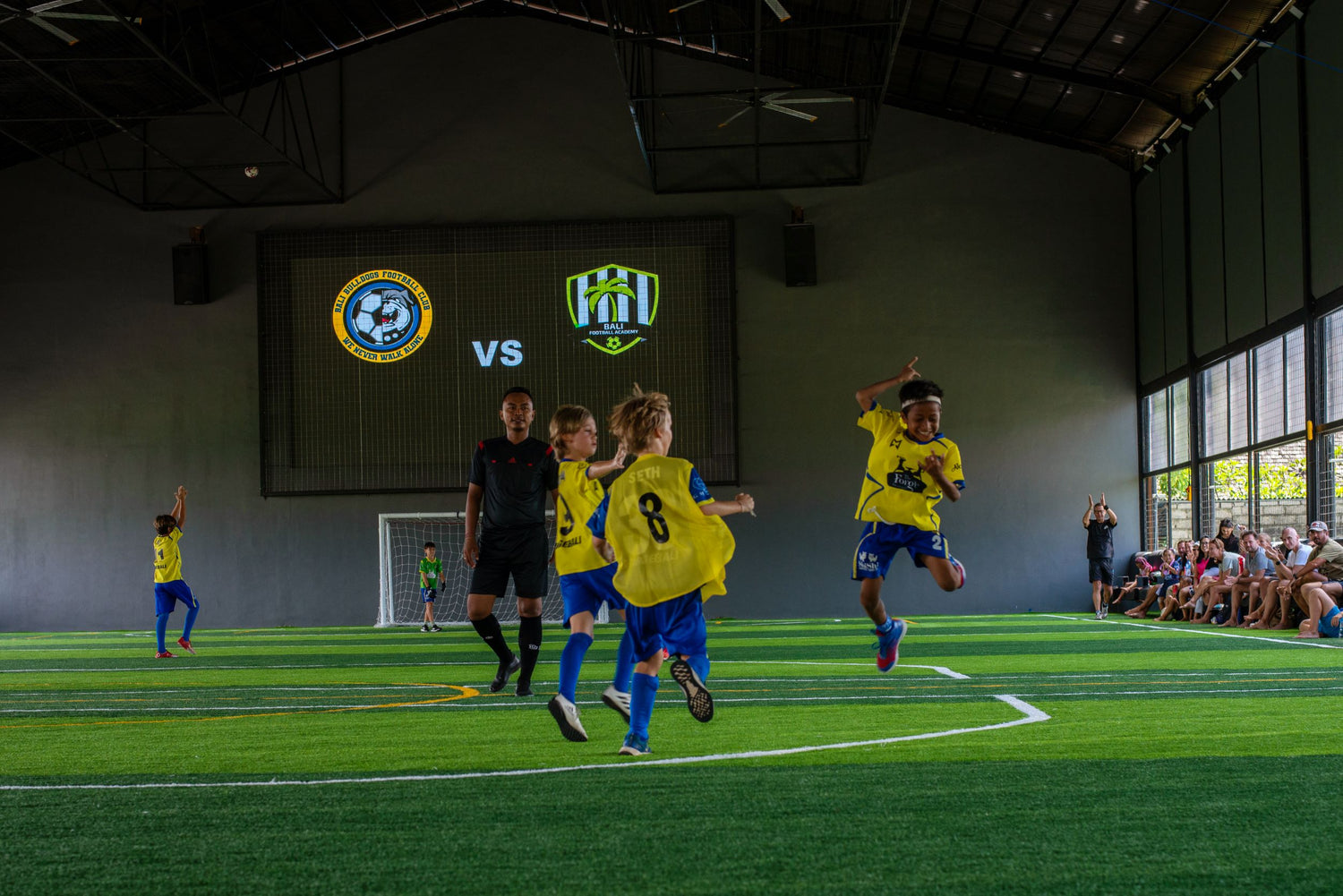 3. Practice Game
We also place a strong emphasis on the development of match skills, encompassing both tactical and technical abilities, that are essential to our unique playing style.
We put the skills practised in into a competitive match scenario. Principles are reinforced but the emphasis is on a free flow game where players learn from their own decisions.
We focus on enhancing existing player attributes and addressing areas of weakness to further improve their overall game. The ultimate objective is to cultivate well-rounded football players who can reach their full potential.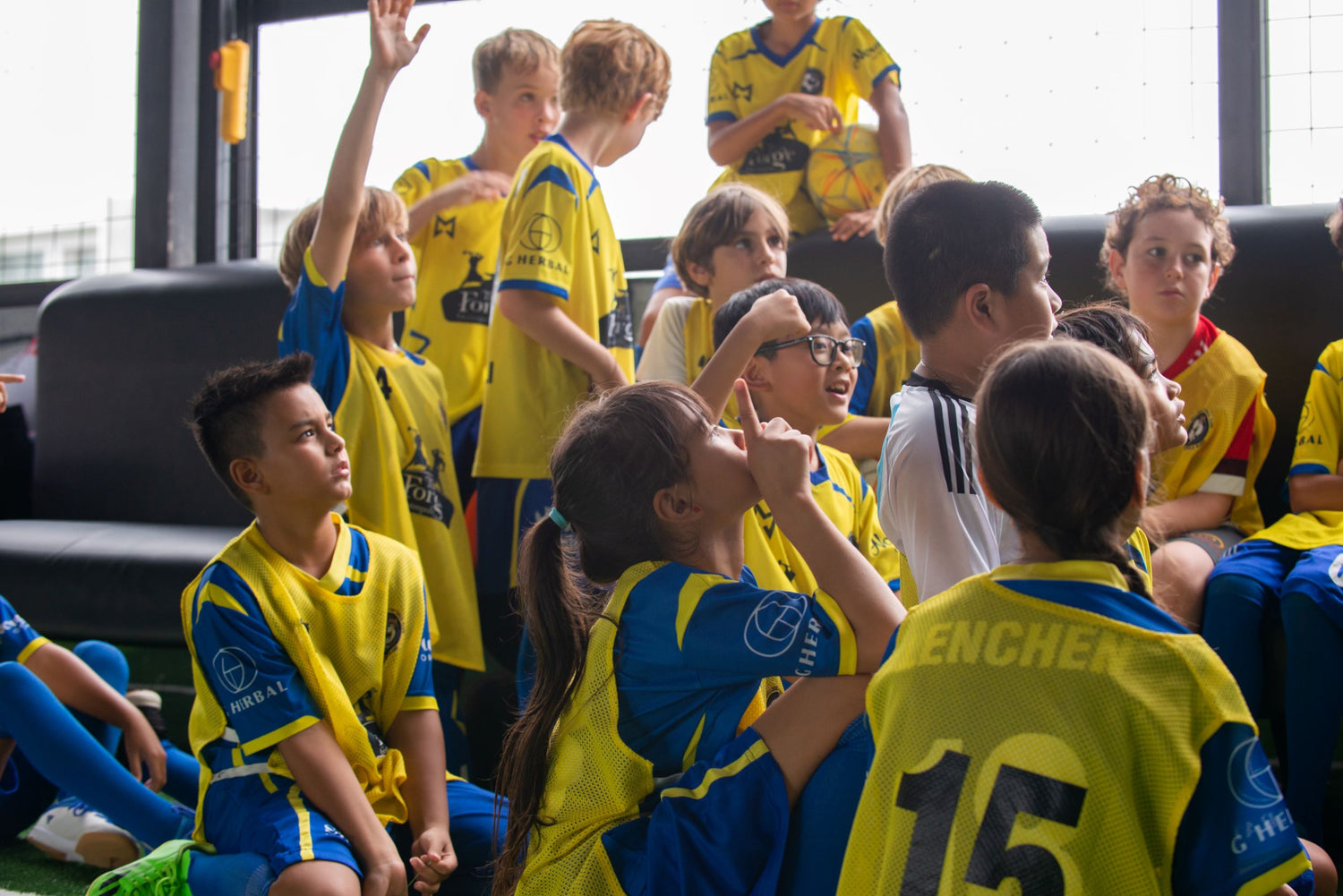 4. The Big Finish
At the end of the training, coaches will ask for player feedback, thank the children for their time, give a closing word and then perform the famous Bulldogs farewell!
Our Values
The Bulldogs philosophy is built upon the importance of instilling the following values in our players:
Fairness: We strongly believe in upholding the principles of fair play.
Integrity: Our actions are guided by fairness, consistency, and transparency.
Excellence: We set high standards and work diligently to achieve them.
Fun: Participation in the game should enhance the enjoyment of all involved.
Attitude: Players, coaches, and staff are expected to be fully dedicated, giving their best effort both on and off the field. Maintaining a positive and composed attitude under pressure is essential for achieving optimal results.
Accountable: We operate with transparency, clearly communicating what we do, how we do it, and why.
Respectful: Respect is the cornerstone of our philosophy. We value respect for teammates, opponents, coaches, and referees. Embracing advice from coaches is vital for skill development, while self-respect promotes personal growth as both a player and an individual.
All for One: While individual development is important, teamwork is fundamental in the game of football. Working together with teammates not only improves individual skills but also strengthens the entire team. We value unity, regardless of players' backgrounds or origins, and we encourage everyone to contribute to the success of their teammates.
Professional: Club representatives conduct themselves in accordance with established codes of conduct and the expectations set by the Committee in all their dealings.
New Thinking: Players are urged to embrace the guidance provided by coaches and seek ways to improve their tactical and technical abilities. We also promote creative thinking and encourage players to express their creativity on the field, fostering a dynamic and innovative approach to the game.
Learning: Embracing the "Bulldogs Way" of playing football is key. This approach emphasizes passing, movement, technique, skill, fair play, teamwork, self-expression, and above all, fun! By adopting this mindset, players embrace a holistic learning experience that goes beyond the game itself.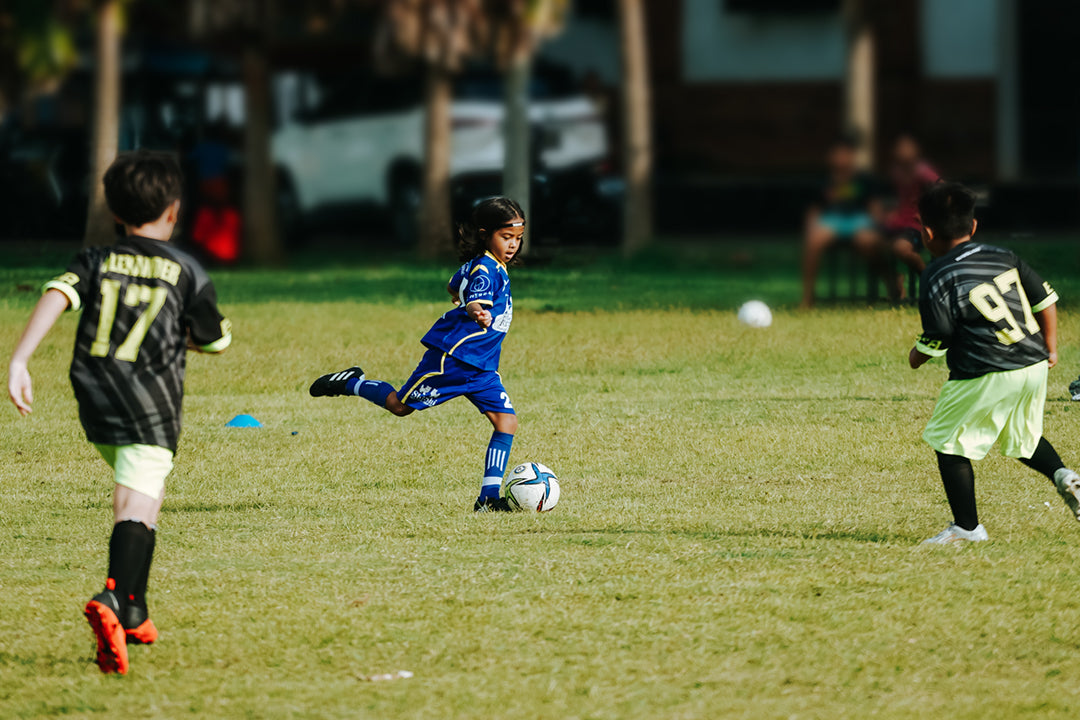 Our Football Philosophy
The heart and soul of our philosophy is all about believing in the magic of having the ball at your feet.
Our playing style revolves around possession-based attacking football, characterized by a combination of technical excellence, tactical flexibility, and collective brilliance. We encourage players to showcase their flair, improvisation, and press opponents early, aiming to dominate the game in the opposition's half. 
We strive to create a balance between individual talent and teamwork, resulting in an exciting and cohesive style of play. We believe that this approach is in sync with the dynamic nature of modern-day football and brings out the best in our young players.
Youth Coaching Team
Our team of certified coaches focuses on training boys and girls between the ages of 4 and 18.We group players based on their skill levels (Development / Advanced) and provide training sessions to create a supportive and enjoyable environment where players can refine their skills and have a fulfilling experience. Irrespective of age or skill level, our goal is to create a positive environment that promotes self-worth and cultivates a lifelong passion for the game of football in every individual.
Our Junior Coaches are fully licensed and have official contracts with the club. They bring a diverse range of expertise and experience to our coaching team, making them well-suited for working with young players.
And, by the way, they are absolutely passionate about football!
Jon

Head Coach
Age: 40

Favourite Team: Arsenal

Tino

Senior Coach
Age: 38

C License

Favourite Team: Barcelona

Putu

Coach

Age: 41

D License

Favourite Team/s: Arsenal, Manchester United

Eka

Coach

Age: 31

D License

Favourite Team: PSG

Joni

Coach

Age : 31

D License

Favourite Team/s: Real Madrid, Manchester City
Training Schedule
Currently, our Juniors players train from Monday - Thursday. The exact times are as follows:

Monday & Wednesday:
15:30 - 16:30: Kindy & U6
16:30 - 18:00: U8 Dev & Adv
18:00 - 17:00: U18 Girls
Tuesday & Thursday:
16:00 - 17:30: U10 Dev & Adv
17:30 - 19:00: U12
Tuesday & Friday:
17:30 - 19:0: U14 & U18 (Friday only)